Vietnam Government's decision to adopt a more open visa policy is undoubtedly a positive stride for its tourism industry. It is noteworthy that Viet Nam's Tourism Advisory Board recognizes the significance of this more lenient visa policy and predicts that the country could welcome up to 12 million foreign tourists in 2023, surpassing its previous target of 8 million. While the announcement is promising, it is crucial to recognize that a visa policy alone does not guarantee a surge in tourism. Attracting travellers is contingent upon the appeal and competitiveness of the destination itself.
The extended 90-day e-visa does more than just increase the time tourists can stay. It brings Vietnam closer to Thailand and Singapore, which historically boasted more attractive visa policies for tourists keen on exploring the Vietnam-Cambodia-Laos circuit. This change not only addresses the needs of long-haul travellers from regions like North America, the EU, and more, who are known for planning lengthier vacations but also hopes to edge closer to the goal of welcoming 8 million foreign visitors by the end of the year.
Recent data echoes the positive sentiments surrounding Vietnam's tourism industry. The extension of e-visas to 90 days has generated optimism, with experts anticipating an increase in tourist flows and foreign investment. In the first half of this year, Vietnam welcomed over 5.57 million foreign visitors, contributing to estimated tourism revenues of 343 trillion VND (approximately 14.46 billion USD). These figures reflect the industry's resilience and potential for further growth.
Easing visa policies is obviously a first step in the right direction, but the journey ahead requires a comprehensive marketing strategy overhaul. Repositioning Vietnam as something beyond the 'Hidden Charm' calls for meticulous planning. It is a chance to weave a narrative that showcases the nation's diverse offerings, from bustling city life to serene countryside escapes. The revamped marketing approach could be the key to attracting a wider array of travellers, each seeking a distinct adventure. Neighbouring Thailand, known for its dynamic tourism campaigns and progressive visa policies, serves as an inspiration. Their thriving tourism landscape is a testament to the power of harmonizing policy changes with promotional efforts.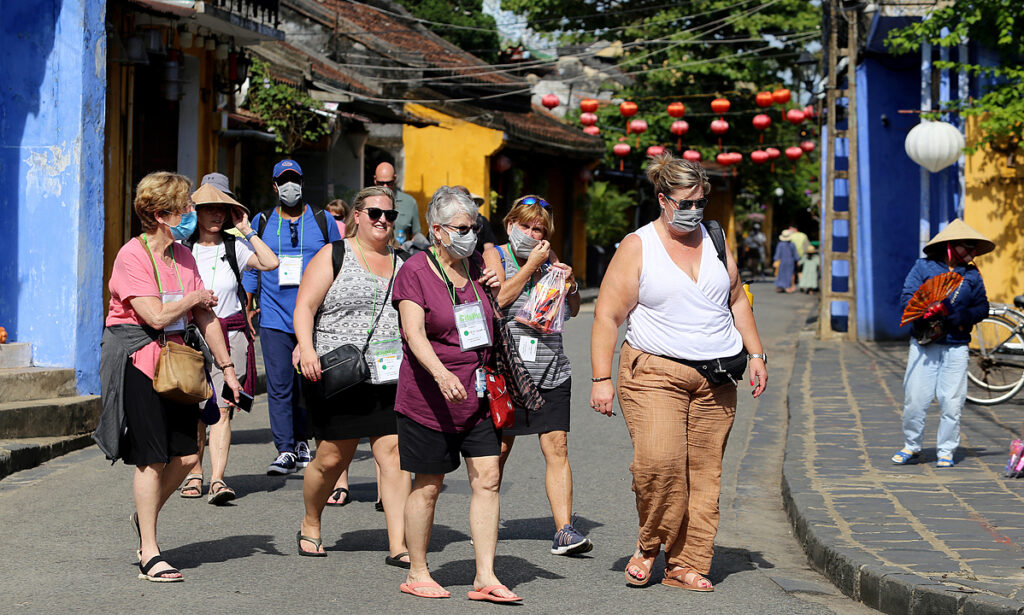 Foreign tourists in Hoi An ancient town in Vietnam. Image source: VnExpress 
In summary, Vietnam's path to becoming a top tourism destination involves many essential pieces. Enticing tourists to visit the country through the new visa policy is a good start, but it is not enough for the tourism industry to leapfrog on its own. Think of it like building a puzzle: adjusting the marketing approach, substantially improving tourist attractions, facilities, and services, and creating amazing memories are all part of this bigger picture. This isn't just a small step forward but a significant and exciting change in how Vietnam wants the world to see itself.