Traveloka, Southeast Asia's leading travel platform, remains committed to Vietnam's ongoing tourism revival and surging global travel by organizing Traveloka International Travel Fair 2023 from 29 May to 2 June 2023. Riding on the momentum of border restrictions removal in most countries, Traveloka signifies its contribution to the international tourism sector by offering a wide range of travel products, including transportation, accommodation, attractions & tours, airport transfer and car rental service deals with discounts up to 40%, attractive coupons and exclusive deals from tourism industry partners in the region.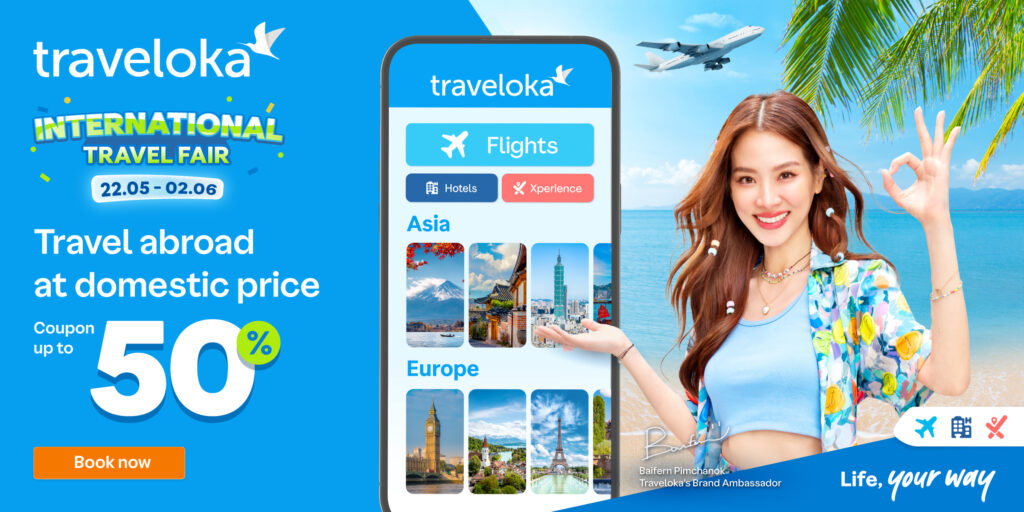 Outbound tours are reported to start to recover strongly from last summer (according to Outbox research). After Vietnam removed all restrictions on international flights and countries globally started relaxing border restrictions and resumed issuing visas to Vietnamese tourists, many travel firms are getting bookings for outbound tours. In addition, the past two long holidays (Tet Holiday 2023 and recent Reunification and Labor holiday) are also a catalyst for the international travel demand of Vietnamese people, especially working people and students. A series of tour companies have recorded an explosion of outbound tour bookings.
According to Traveloka's internal insights, the recent Reunification and Labor holiday has resulted in impressive achievement with the international trip bookings having increased by almost 4 times during January to May 2023 compared to the same period last year, with the favorite destinations being: Thailand, Singapore, Malaysia, South Korea, Taiwan (China).
Iko Putera, CEO of Transport for Traveloka, said, "To serve our Vietnamese customers, Traveloka continues to embrace opportunities and stay ahead of the curve by responding to changing traveler behavior with consumer-centric solutions while also contributing positively to the tourism industry. The International Travel Fair 2023 is part of the company's commitment in growing global tourism, while providing convenience to our customers in planning and realizing their travel aspirations, especially for international travel."
"The International Travel Day 2023 of Traveloka is the year's largest international travel promotion aimed at increasing our customers' outbound travel demand while helping to maintain our tourism partners. Summer vacation – peak tourist season is approaching and international travel fares are only comparable to domestic fares for many destinations. Traveloka also remains bullish on inbound travel and believes the discounts and deals available at the fair will continue to trigger customer demand. Not only are we passionate about reviving Vietnam's tourism industry, the International Tourism Day is also expected to help drive revenue for important business partners in the ecosystem," Iko added.
Baifern Pimchanok, brand Ambassador for Traveloka Thailand and Vietnam, is a regular platform user and she agreed the International Travel Fair would help drive Vietnam's tourism renaissance. "I love to explore new destinations, and I always use the Traveloka app when traveling because of how its seamless booking journey saves my time. It also offers a consistent number of deals on flights, accommodation and experiences at reasonable rates in addition to information on destinations I like to visit. I hope Traveloka's International Travel Fair enables consumers to find great deals to inspire their thirst for outbound travel."
While offering amazing deals to its customers, Traveloka also arm its travel products with excellent features that allow users to plan their trip conveniently. Those features including:
Flight – 300,000 flight routes from over 200 airline partners, Traveloka offers a comprehensive inventory with added benefits such as advanced seat selection, extra baggage allowance, meals, and travel insurance.
Hotel – Pay Upon Check-In, lets guests pay on check-in while providing added peace-of-mind with guaranteed stays, easy refunds, and easy rescheduling.
Xperience – provides customers access to both easy refunds and easy rescheduling on world class beauty and spa products plus much, much more.
Additional benefits will be available for Traveloka customers by simply downloading the Traveloka app or updating to the most recent version, navigate to the International Travel Fair section on the app's homepage, and take advantage of savings on both domestic and international travel. For more information and program terms and conditions, please visit [https://www.traveloka.com/en-th/promotion/internationaltravelfair2023]