Traveloka, Southeast Asia's leading travel platform, reaffirmed its commitment to actively supporting the development of Vietnam's tourism industry through the signing of a Memorandum of Understanding (MoU) with the Vietnam National Authority of Tourism (VNAT). The MOU signifies an enhanced public-private partnership and a shared long-term commitment to promote sustainable growth of the tourism industry in Vietnam.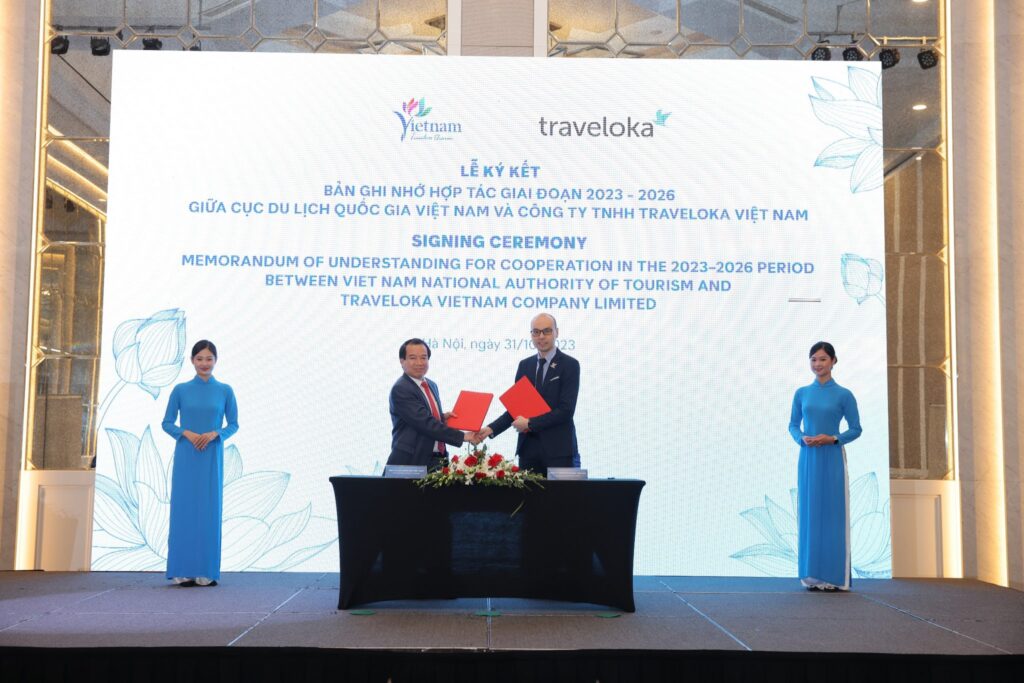 MOU Signing Ceremony Between Traveloka and VNAT.
The event was witnessed by representatives from the Ministry of Culture, Sports and Tourism (MOCST); relevant ministries and agencies such as the Ministry of Transport and Civil Aviation Authority; provincial tourism departments; relevant associations such as the Pacific Asia Travel Association (PATA), the Vietnam Tourism Association (VITA), the Vietnam Hotel Association, the Vietnam Tour Guide Association (VTGA), and the Vietnam Chamber of Commerce and Industry (VCCI).
The MOU marks the first step to elevate the travel experience for domestic and international tourists in Vietnam and promote local destinations to domestic travelers and key markets abroad, especially within Southeast Asia and beyond. Through this strengthened partnership, Traveloka aims to drive digital transformation and sustainable tourism through knowledge sharing and other collaborative projects while becoming a long-term trusted partner of Vietnam.
By the end of the third quarter, domestic tourism in Vietnam had witnessed a significant surge, with an estimated 15.7 million visitors recorded, representing a 20.2% increase compared to the same period last year. The country also welcomed 8.9 million international visitors, with almost 7.8 million arriving by air, accounting for 87.5% of overseas arrivals and a remarkable 4.7-fold increase compared to the same period in 2022.
Building on positive developments in Vietnam's tourism industry, close collaboration between industry players and the government is vital to ensure sustainable growth and destination management. Further, it can help bolster the nation's tourism sector and elevate Vietnam's position as a global destination.
Speaking at the signing ceremony, Dr. Ha Van Sieu, Vice Chairman of VNAT, said: "I commend Traveloka for working closely with VNAT in recent times as well as supporting to organize this meaningful and important event. I also propose that Traveloka continue to be a partner and work together with the Vietnamese tourism sector in activities such as destination promotion and digital transformation. Thereby, the tourism industry in Vietnam will eventually revive and grow due to these initiatives. This commitment will be confirmed by the MOU for the period 2023-2026 signed today between VNAT and Traveloka."
Mr. Albert, Co-founder, Traveloka, said: "We are thrilled to embark on this strategic partnership with VNAT, recognizing its pivotal role in spearheading digital transformation for enhanced management and sustainable tourism development. Vietnam possesses immense potential for tourism development and has the opportunity to emerge as a leading country in digital advancement within Southeast Asia. Through our comprehensive suite of features offered on a single platform, we aim to facilitate the digitalization of tourism processes. This collaborative effort will cater to the growing travel demand to Vietnam and contribute to the sustainable development of our partners and local businesses."
The signing ceremony took place during a high-level roundtable discussion on "Public-Private Partnership in the Management and Development of Tourism Destinations". The discussion served as an experience-sharing forum, encouraging collaboration between public and private sectors toward the best travel destination management and development model. The event brought together key stakeholders from the public and private sectors, international organizations, and local tourism authorities to foster collaboration and mobilize collective efforts towards sustainable growth.
Since starting operations in Vietnam in 2015, Traveloka has been striving to establish and improve a collaborative ecosystem among the local government, tourism management agencies, and industry stakeholders. The signing of the MoU with VNAT shows that Traveloka appreciates the potential of Vietnam's tourism market and is setting its sights on meeting the travel aspirations of Vietnam consumers through modern technology. Traveloka is also committed to constantly innovating and offering the travel ecosystem more relevant products and services.
The event is also featured on: https://vietnamnet.vn/en/tourism-authority-traveloka-seal-public-private-cooperation-deal-2209309.html