Alibaba.com, a leading platform for global business-to-business (B2B) e-commerce, today spotlighted the benefits of its Trade Assurance service on Vietnamese small and medium-sized enterprises (SMEs). Introduced to the Vietnamese market in September, Trade Assurance has already led to significant achievements among local suppliers, helping them build trust with buyers, streamlining their operations, and raising their profile on the Alibaba.com marketplace.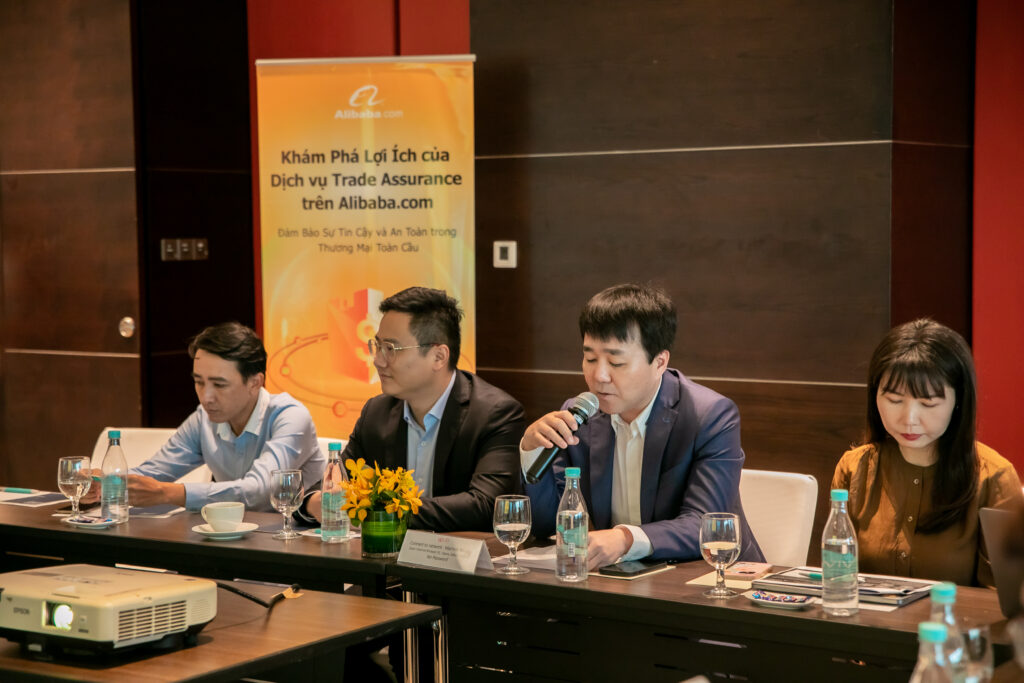 Alibaba.com representative shares information in Ho Chi Minh City.
Global B2B trade can be fraught with challenges, including concerns over costs, product quality, shipment timelines, and more. Trade Assurance, a proprietary order protection service offered by Alibaba.com, alleviates some of these risks, providing both suppliers and buyers with confidence throughout the entire transaction process. Suppliers who opt for this service can conduct business with peace of mind, knowing that their transactions are securely safeguarded by a trusted platform. The service stipulates that the buyer makes payment at the time of purchase, with the funds held in escrow by Alibaba.com until the buyer confirms the satisfactory receipt of the order within a reasonable timeframe.
Participating suppliers stand to gain a significant advantage as Trade Assurance not only enhances buyers' trust in them but also allows them to amass a robust online transaction history, thereby improving their visibility, ranking and exposure on Alibaba.com. This, in turn, translates to a wealth of future business opportunities for the suppliers.
Take the example of TT Garment, a company specializing in the production of garment products like T-shirts, hoodies, and baseball caps. Having joined the Alibaba.com e-commerce platform in 2020, a remarkable 80% of the company's export revenue now originates from this platform. TT Garment has successfully expanded its market presence to the United States, Canada, Australia, Europe, and Asia. Since adopting the Trade Assurance service in September, the company has significantly streamlined its order processing and transaction procedures, bolstering customer confidence in placing large orders and making payments.
"I wholeheartedly recommend the Trade Assurance service to fellow suppliers. We recently received an order from the United States for one of our hat products. The implementation of Trade Assurance accelerated the transaction process considerably. It took just over 2 weeks to complete the entire order, encompassing 3 days for order confirmation, 15 days for shipping, and 1 day of order completion. Trade Assurance enables suppliers to foster trust with customers, expedite transactions, enhance their global presence and generate more business opportunities," remarked Mr. Nguyen Van Thong, CEO of TT Garment Company Limited.
According to internal records, one supplier experienced a remarkable 28% increase in search exposure, a 26% boost in click-through rates, and a staggering 244% surge in the number of active buyers within a month of adopting the Trade Assurance service. Another supplier achieved a 13% increase in search exposure, a 23% improvement in click-through rates, and a 60% upswing in active buyers.
"Vietnam is one of Alibaba.com's high-potential supplier markets, with a robust production capacity and a diverse range of product categories that attract substantial global buyer interest. In recognition of this potential, we have introduced the Trade Assurance service to the Vietnamese market. This service aims to foster trust between Vietnamese suppliers and global buyers, while also streamlining transaction processes. By doing so, we aim to enhance efficiency and unlock new business opportunities for Vietnamese suppliers, thereby contributing to their growth and success," said Mr. Roger Luo, Head of Southeast Asia at Alibaba.com.
Mrs. Summer Gao, Head of Southeast Asia Supply Chain Services at Alibaba.com, shared, "We are thrilled to bring Trade Assurance to Vietnam. Transactions conducted with the Trade Assurance service enable Vietnam SMEs to build a robust online transaction history, bolster their credit ratings, and enhance their reputation with global buyers. We firmly believe that the comprehensive order protection it offers can reduce trade barriers for SMEs, opening pathways for them to flourish in the global marketplace."
From the perspective of global buyers, Trade Assurance offers a more secure and straightforward transaction method for their B2B orders, safeguarding them against unforeseen circumstances such as product quality issues and shipping delays. This, in turn, fosters a smooth and secure sourcing experience for buyers while enhancing the appeal of suppliers participating in the program. The ongoing adoption of Trade Assurance by Vietnamese suppliers is expected to bolster the reputation of "made in Vietnam" products in the global market.
The event is also featured on: http://bizhub.vn/corporate-news/alibabas-trade-assurance-helps-vietnamese-sellers-by-reassuring-buyers_349619.html