FOUR PAWS –  a global animal welfare organization, has organized a national stakeholder workshop to discuss the implications of the dog and cat meat trade in Vietnam on the contry's public health, animal welfare and tourism industry.
The workshop was attended by representatives from the Vietnam National Institute of Hygiene and Epidemiology, General Department of Preventive Medicine (Ministry of Health),  Hoi An City People's Committee, Ha Tinh Province Animal Husbandry and Veterinary Sub-department, EU Delegation to Vietnam, Vietnamese One Health University Network (VOHUN), French Agricultural Research Centre for International Development (CIRAD), Animals Asia, Soi Dog International Foundation, etc.
Prof.Dr.Dau Ngoc Hao – President of the Vietnam Veterinary Association, chaired the workshop; Also in attendance were Assoc. Prof. Ph.D. Su Thanh Long; Assoc. Prof. Ph.D. Bui Khanh Linh (Vietnam National University of Agriculture); Ph.D Nguyen Manh Ha (Center for Nature Conservation and Development); EXO Travel; Abercrombie and Kent; Easia; … and local press publications.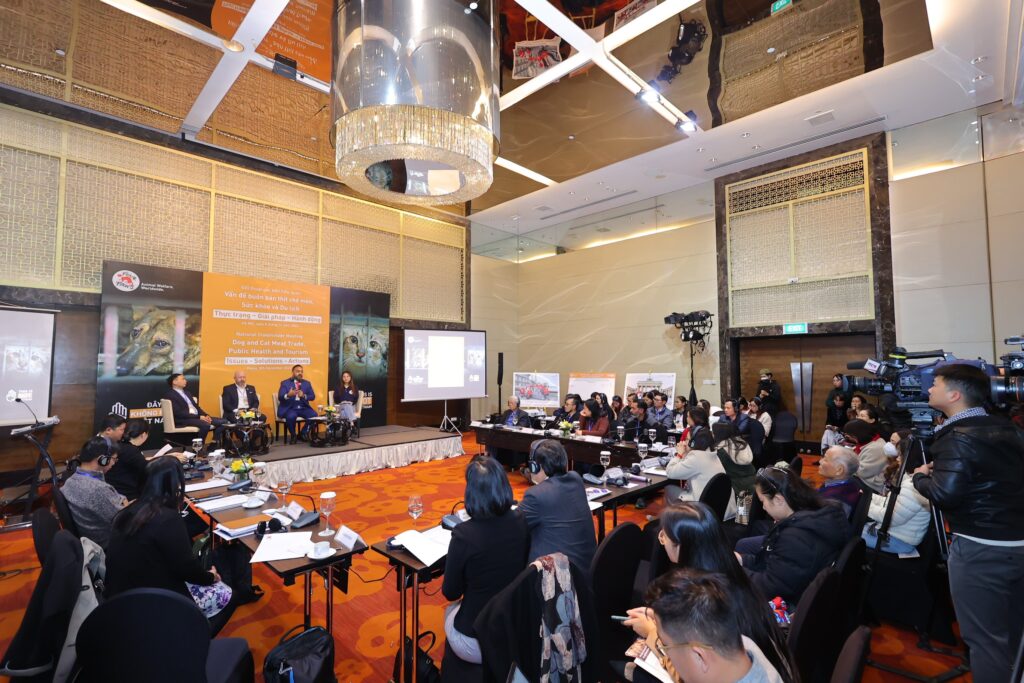 Presentations during the event covered the public health and tourism implications of the trade, local and regional efforts opposing the trade. Besides, the event featured insights into the ongoing project undertaken by the Hoi An city government and FOUR PAWS to phase out the city's dog and cat meat trade.
A plenary discussion was held among stakeholders to discuss various aspects of the trade, and propose steps that Vietnam should take to reduce the multiple risks posed by the trade to the Vietnamese people.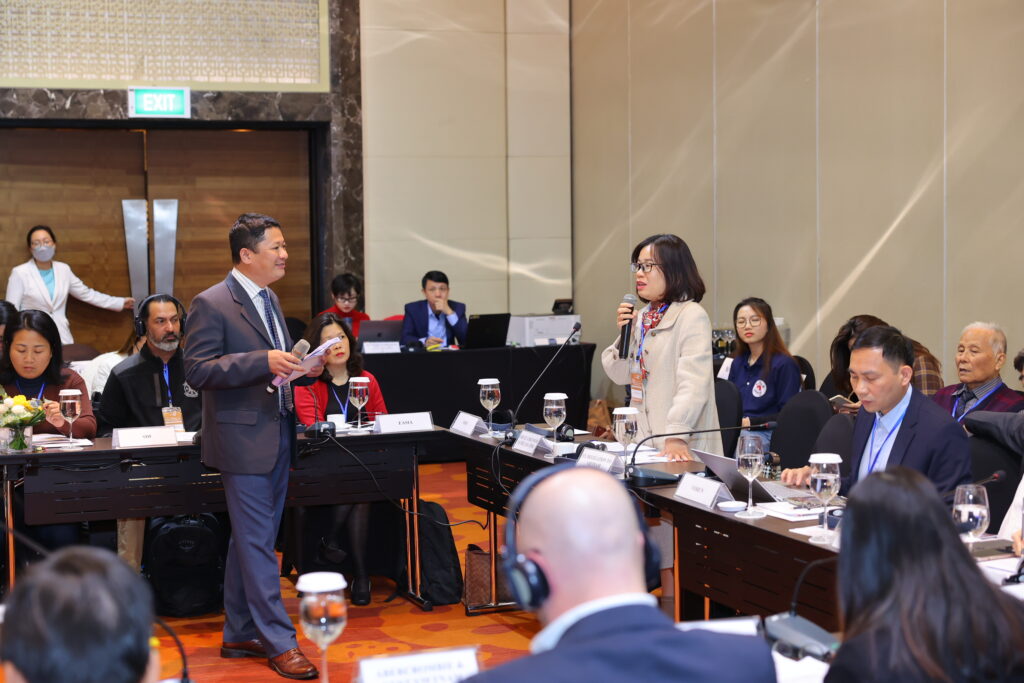 Stakeholders at the event, including the Vietnamese Government, worked together to assess the dog and cat meat trade and its associated public health risks and discuss short-term and long-term solutions and policy actions to address these risks.
Participants also commended the commitments and efforts by Hoi An City and Hanoi City to address the risks of the trade, and recommended similar actions in other cities and provinces.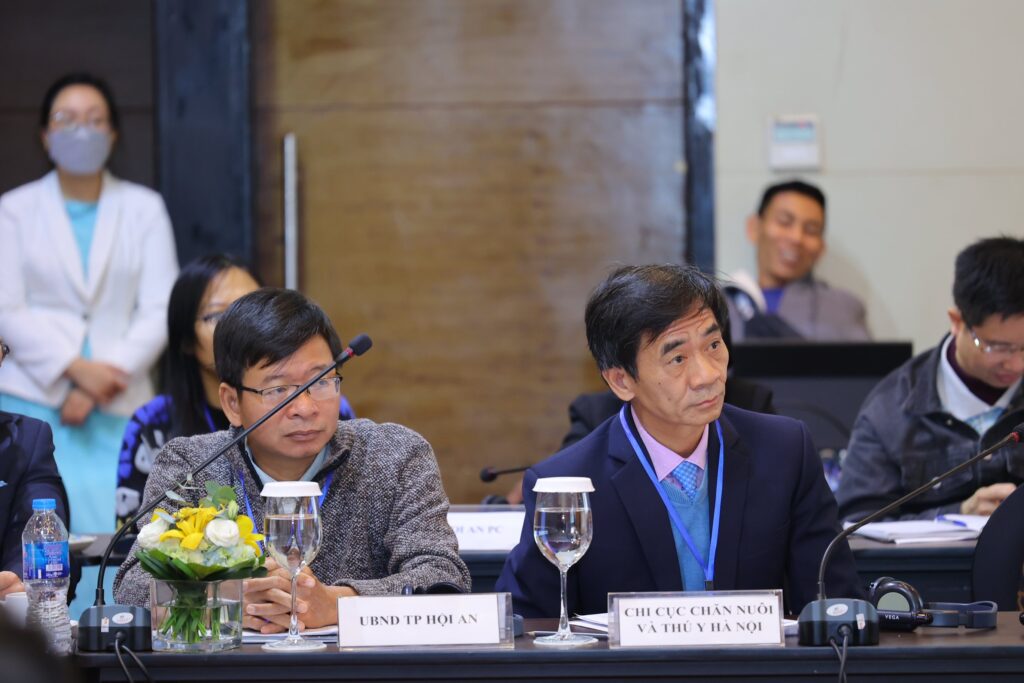 Dr. Karan Kukreja, Head of Southeast Asia Campaigns (Companion Animals) for FOUR PAWS International, said: "We were honored to host this meeting – the first of its kind in Vietnam – to discuss viewpoints in regard to the trade. It's obvious from the presentations and the discussions that the tide is turning against the dog and cat meat trade in Vietnam.
As we've seen from the presentations, the dog and cat meat trade presents various risks; such as direct and indirect rabies risks; pandemic risks due to the nature of the trade being conducive to novel pathogen emergence. Tourists and tourism companies have also expressed their sentiment against the trade – It's time for action against the trade – and FOUR PAWS and its partners stand ready to help in the interest of public health and animal welfare."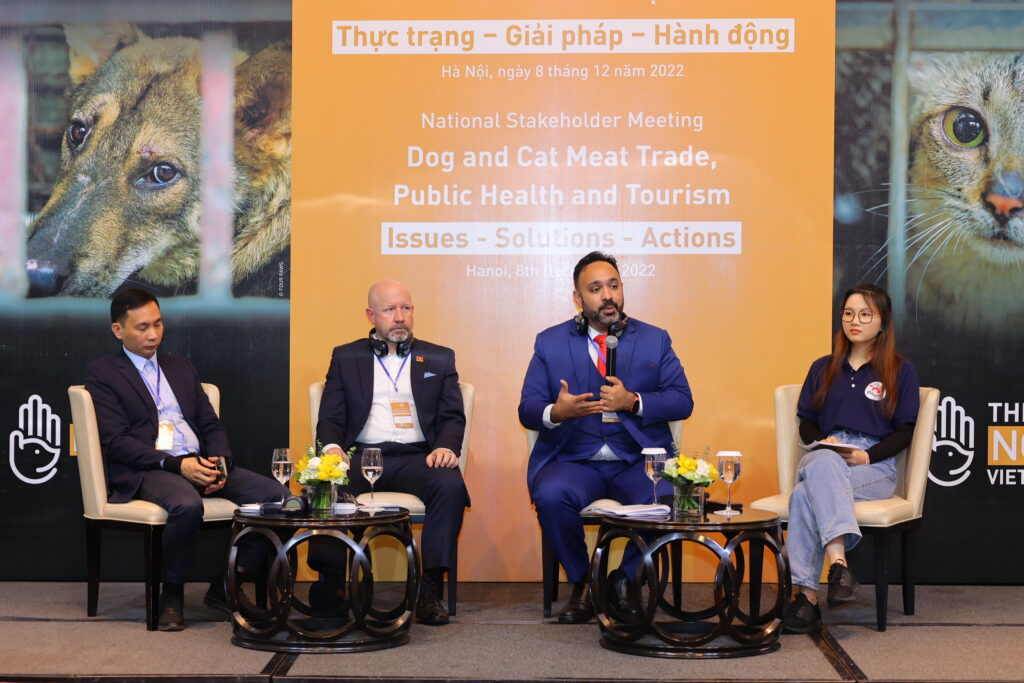 Ms Phan Thanh Dung, Southeast Asia Campaigns consultant for FOUR PAWS, added: "We constantly see communications from Vietnamese people asking for actions to be taken against the trade. We received letters from tens of thousands of people addressed to the Vietnamese Government, along with heartfelt comments pleading for it to be ended. We've gotten many reports from the public on our DCMT reporting tool less than a month after its launch; most Vietnamese do not want the dog and cat meat trade.
"It also should be noted that hundreds of thousands of Vietnamese have expressed sentiments against the trade, and 95% of Vietnamese people in a survey conducted in multiple regions of Vietnam have said that the dog and cat meat trade is not part of Vietnamese culture. The dog and cat meat trade benefits very few, and poses risks to many. I'm confident that by working together, we can bring an end to the trade."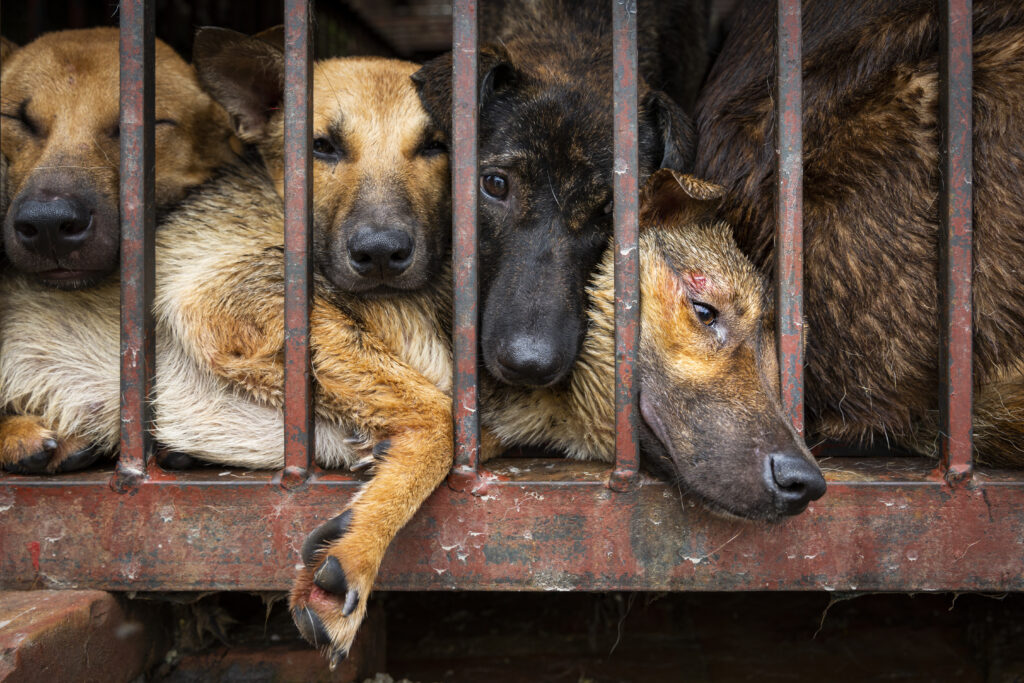 Mr Robert Rankin, Vietnam Country Manager for the major tourism operator Abercrombie and Kent, emphasized: "Tourists do not like cruelty to animals, and they particularly dislike the dog and cat meat trade. The dog and cat meat trade and its proven role in proliferating disease makes it harder for us as tourism operators to promote Vietnam as a safe, civilized, welcoming and modern tourism destination – Abercrombie and Kent Vietnam supports a ban of the dog and cat meat trade, along with many tourism operators who have signed FOUR PAWS' pledge supporting an end to the trade."
Prof. Dr. Dau Ngoc Hao also commented:  "Considering the information we've seen – the dog and cat meat trade poses many risks – and little benefit. Efforts must be made to study and address the dog and cat meat trade issues. Today's event is a great step forward, but it's important that we all work together to protect the Vietnamese people and public health, as well as the wider global community from the health risks of the trade."
FOUR PAWS will continue to work with stakeholders in this field further to address the risks of the dog and cat meat trade in Vietnam.