Driven by good performance of the ICT industry, Vietnam will issue a number of long-awaited supporting policies ad strategies to strongly accelerate digital transformation in 2023, betting on the ambition to become a regional tech hub for global giants.
At a late December meeting to review 2022 performance and set tasks for 2023, Deputy Minister of Information and Communications Nguyen Huy Dung said that the ministry (MIC) will strongly focus on legal works to facilitate business activities, and to accelerate national digital transformation.
The MIC plans to complete the draft revised Law on E-Transactions, the revised Law on Telecommunications, and submit to the National Assembly (NA) for adoption this year.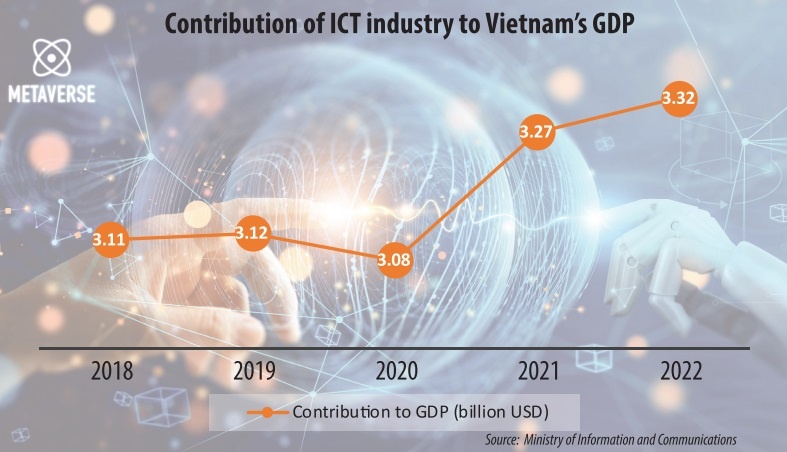 "The amendment to the Law on Telecommunications is critical to meet development demands of the country, with the market recently witnessing significant changes with the emergence of new service and business models," the deputy minister said. "Free trade agreements, especially new-generation ones, feature new commitments that we need to consider into local legislation."
Both domestic and international companies are expecting the adoption of the amended Law on Telecommunications as it will help complete the legal framework of the industry, develop telecoms infrastructure for digital economy and digital society, and enlarge development space for businesses.
Moreover, a draft law for the digital tech industry will be sent to the NA for discussion in 2023 and adoption in 2024. An action programme will also be built to implement a related development strategy for 2025, with a vision towards 2030.
Also on the agenda is a draft strategy on development of the semiconductor industry for this decade, as well as development of a dynamic strategy for the IT industry to attract investment in Internet of Things (IoT) and AI-based production, particularly in the southern provinces of Dong Nai, Binh Duong, and Ba Ria-Vung Tau.
Other focuses will be the development of a national data-sharing integrated platform and development of a cloud computing platform for application in state agencies.
Continuing shift
Moves such as these are expected to increase the country's attraction to international groups. There has already been growing interest and investment in research and development (R&D) from multinational corporations (MNCs) in the country, marking it a highlight in the local ICT industry, according to the MIC.
"Last year marked a shift of investment among many more foreign-invested enterprises from manufacturing outsourcing to investment in R&D by opening centres in Vietnam," Deputy Minister Dung said, citing Samsung, Qualcomm, Panasonic, Intel, and Synopsys as the leaders in such activities.
Samsung remains the single-biggest foreign enterprise in Vietnam, and continued with its ambitious plan of developing Vietnam into its global R&D hub with the opening of a new R&D centre in Hanoi last month.
Vietnam is a key global base that produces nearly half of Samsung Electronics' smartphones. In the past, it produced mainly low-end products, but increased investment means it now produces the latest foldable smartphones, TVs, batteries, and camera modules.
Other MNCs in the tech sector have been expanding in Vietnam. US chip giant Synopsys in August announced collaboration with Saigon High-Tech Park, with Synopsys supporting the park in establishing a chip design centre. The move aims to cultivate advanced design talent and facilitate semiconductor development in the country.
US conglomerate Qualcomm already established an R&D centre in Hanoi in 2020 for developing wireless technologies like 4G/5G and IoT. The facility develops new mobile technologies and provides testing services for Vietnamese manufacturing partners such as VinSmart, BKAV, and Viettel.
Ongoing progress
The growing interest from MNCs is deemed the result of the country's sustained efforts in creating a more favourable business environment, with the MIC playing a key role in this path. In 2022, the NA adopted the amended Law on Radio Frequency and the amended Law on E-Transactions to facilitate business activities in the field.
The ministry also crafted legal documents to give priority to the development of cloud computing as an important platform for development of digital government, economy, and society.
Moreover, it worked with ministries and agencies on amending rules to create favourable conditions for businesses. For instance, it worked with the Ministry of Finance to issue circulars guiding the management and application management fees for use of radio frequencies and telecoms operation rights, among others.
The ICT industry made strong advances in 2022 with estimated revenues of $148 billion, up 8.7 per cent on-year. The industry's GDP contribution was estimated at $34.33 billion, up 8.7 per cent on-year.
Its export turnover of hardware and electronics was estimated at $136 billion, up 11.6 per cent from 2021. The year also saw registration of 70,000 digital technology businesses, up 9.6 per cent on-year.
In addition, total revenue overseas of ICT businesses reached over $2.2 billion during the year. And for the first time, with FPT, Vietnam has a digital technology business making revenues of over $1 billion in the international market.
Despite the results, the MIC admitted that some problems remain in the industry. For example, frequency auctions have not yet been carried out due to legal barriers. There are also overlapping laws, including the existing legislation on communications, information security, and investment.
To increase its attraction, the prime minister has asked the Ministry of Planning and Investment to study and work on policies to attract foreign investment inflows into chip technology, and submit them to the government in the first quarter of 2023.
Apple Thy – Country manager Traveloka Vietnam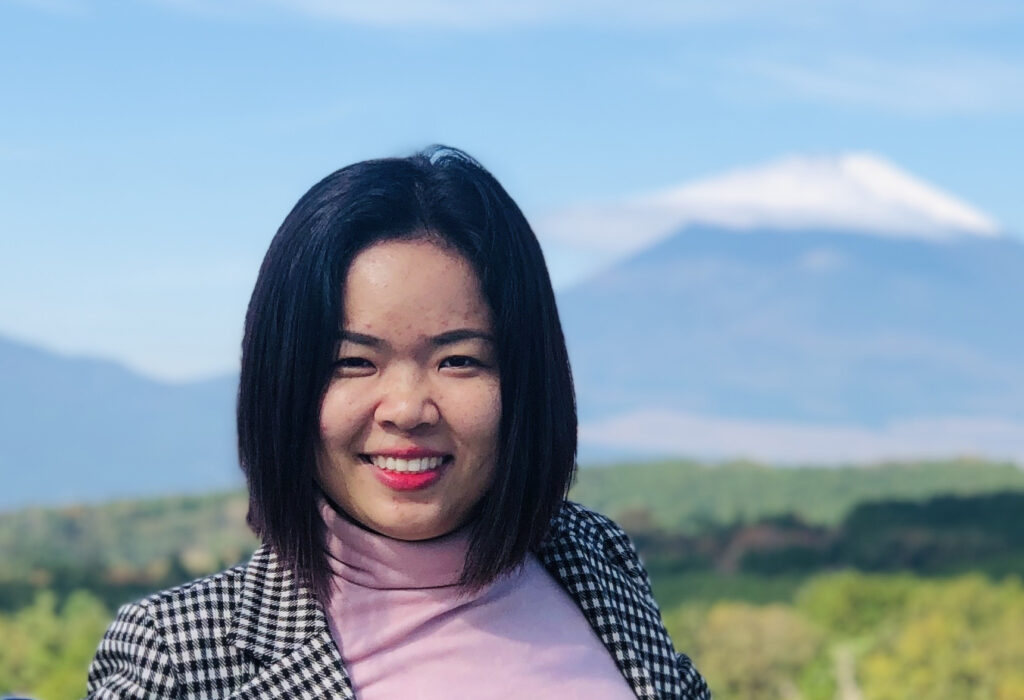 Opening borders and accelerating economic recovery have boosted public interest and confidence to return to travel and tourism activities.
We also appreciate the Vietnamese government's effort to help accelerate the recovery of the tourism sector. Traveloka's internal data also captured a positive trend during the Black Friday campaign recently. The total transaction volume on the platform increased by 1.5 times compared to the previous month. The volume of hotel bookings and the number of Xperience tickets sold also increased by 1.5 times.
The campaign has also attracted the participation of more than 1,000 partners, of which hotel partners recorded a 2.5-fold rise in total bookings compared to October 2022.
At the same time, the outbound travel trend is returning more confidently through the number of bookings to foreign destinations increased by 1.5 times compared to the previous month. Traveloka will continue to collaborate with various provincial tourism boards to attract both domestic and international tourists to come to Vietnam and enjoy various travel attractions in local destinations.
There are plenty of things to explore in Vietnam. According to our internal statistics, our customers' favourite domestic destinations are Ho Chi Minh City, Hanoi, Danang, Nha Trang, and Phu Quoc. During your trip, you can book a memorable holiday at your favourite hotel in Danang or enjoy a breathtaking mountain view with your loved ones at Sun World Fansipan Legend in Sapa.
With tourism experiencing a strong rebound in recent months, it is critical for Vietnam tourism to embrace digital transformation through the adoption of touchless and smart tourism in Vietnam.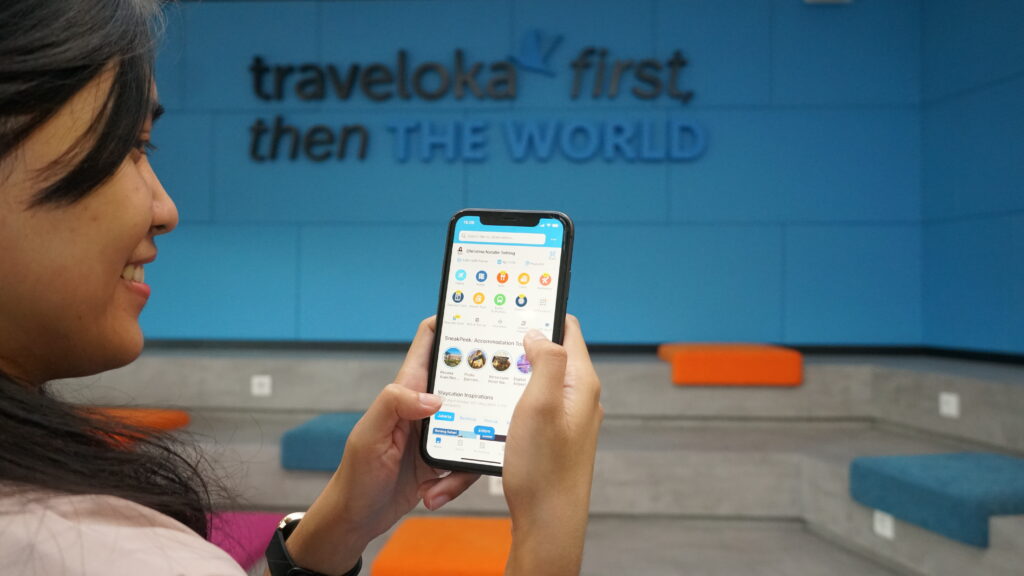 As a result, Traveloka will seize this opportunity to collaborate with relevant stakeholders to ensure the long-term growth of Vietnam's tourism. This is because the digital transformation is more than just a temporary solution to the pandemic disruption, but also a long-term journey for the entire tourism sector to develop sustainably. Furthermore, we will keep making innovations that can create other initiatives and breakthrough programmes that will boost the digitalisation in the tourism sector.
Nam Thieu – General director in Vietnam, Laos and Cambodia, Qualcomm Southeast Asia & Pacific
As 5G is critical in digital transformation, everywhere and everything will soon need connectivity.
We have helped Vietnam to develop related strategies and also carriers such as MobiFone and Viettel to develop networks.
To be more specific, we have been providing training for Vietnamese carriers' engineers and giving consultancy to network services to help develop and design the 5G network. To help Vietnam become independent and self-sustaining in technology, for example, Qualcomm has helped Viettel to build a station for 5G deployment next year.
Based on our observations, Vietnam has three big goals: successfully deploy a 5G network; design and build products for the domestic and international market; and develop digital skills and capacity.
However, currently Vietnam has yet to possess adequate human resources to achieve this goal. The Qualcomm Vietnam Innovation Challenge is one of our initiatives, which is in its third year of giving the green light to potential entrepreneur teams to not only shine in Vietnam but also worldwide.
Another way that we have helped to develop digital personnel for Vietnam is through collaboration with Vietnamese universities such as PTIT, sponsoring research programmes for 5G, AI, and machine learning research projects as well as providing training programmes to PTIT lecturers and professors in Hanoi.
In addition, we have helped Vietnamese manufacturers with the Internet of Things, camera products, and even Wi-Fi mesh to help bring Vietnamese products into the world. Last but not least, we have established a research facility to help Vietnam build world-class products because more companies are moving to Vietnam for manufacturing.
Ngo Trung Linh – CEO, Payoo
Like most businesses, Payoo faced many challenges in 2022. Cashless payments become more popular, requiring the development of infrastructure at stores.
We quickly seized the opportunity to accompany partners and provide payment and operation solutions provided by Payoo itself. Businesses whose infrastructure is still not ready will be supported by us with technology solutions to process transactions and meet the needs of customers.
The comprehensive payment solution deployed by Payoo has been widely applied. We also provide customers with a variety of payment methods including domestic and international cards, QR code scanning of more than 40 banks and popular e-wallets, interest-free instalment payments, and also emerging payment methods such as contactless payment or buy now, pay later.
In addition, we also conducted extensive market research and observation to promptly adapt to new trends. The QR payment method has emerged in the past year and is especially popular with young people. Thanks to the preparation in advance, Payoo has supported many partners to quickly change according to consumer tastes and the system records the transfer of transactions from other methods to QR code payment.
By Bich Thuy
Please view the original article here:
https://vir.com.vn/ict-industry-expects-legal-advances-for-growth-burst-99026.html