The virtual event "RUN FOR MILLIONS" is being organised by FOUR PAWS to raise awareness and show support for ending the dog and cat meat trade in Vietnam. The event will take place from April 27 to October 27, 2023. To join the Run for Millions, please register here:
https://irace.vn/races/runformillions
With various efforts on the journey to end the dog and cat meat trade in Vietnam over the last three years, FOUR PAWS has achieved fruitful results, such as slaughterhouses closures, Hoi An (Quang Nam) committing to phase out dog and cat meat from the city, launching a reporting tool [BBE1] to record dog and cat meat trade activities, a national stakeholder event on the dog and cat meat trade, and multiple campaigns to raise awareness of the risks of the trade. The "Run for Millions" virtual event is an opportunity for the community to continue showing their support towards ending the dog and cat meat trade, and at the same time, inspire an active and healthy lifestyle.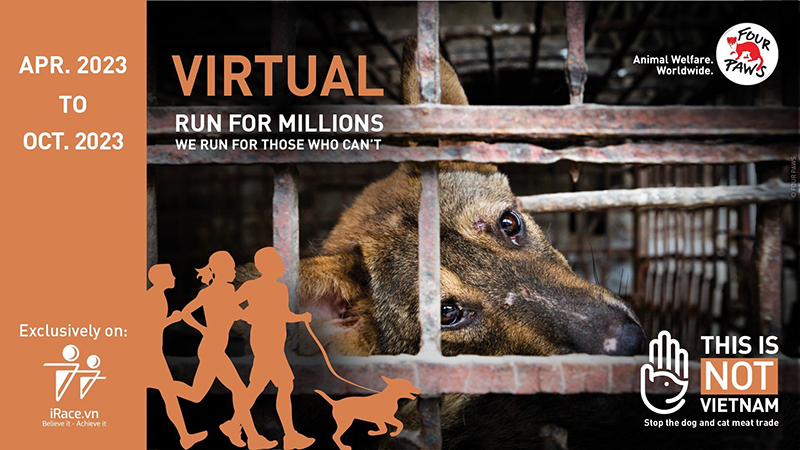 Individuals living and working across Vietnam are called to join the "Run for Millions" to express their opposition to the dog and cat meat trade, which is an ongoing issue across the country. Registration[BBE2] for the run is completely free, and participants can choose to run or walk accumulated minimum distances of 42km, 60km, 100km, 150km and 200km. Each individual's progress will be recorded after each completion and accumulated monthly during the six months of the campaign (April 27 to October 27, 2023). Every month, the organiser will publicly award 100 prizes to the "Top Runners" and 200 prizes for lucky runners. Through this campaign, FOUR PAWS wants to amplify the message "Every step is a hope" to inspire people to speak up towards ending the DCMT in Vietnam.
Previously, from December 2021 to July 2022, FOUR PAWS launched the "This is not Vietnam" campaign to show the Vietnamese people's opposition to the trade in dogs and cats for meat consumption. Some important milestones were recorded within only eight months of the campaign such as: more than 33,000 letters from Vietnamese people were sent to the Deputy Prime Minister,, 24,000 international tourists have sent letters to the Vietnam National Administration of Tourism asking for an end to the trade, 13,500 people globally have sent digital postcards to the Ministry of Culture, Sports and Tourism, and more than 1.8 million worldwide (including 250,000 Vietnamese) have signed an international petition calling for an end to the trade. Sentiment asking for an end to the cruel dog and cat meat trade is growing.
Dr. Karanvir Kukreja, Head of Companion Animal Campaigns Southeast Asia for FOUR PAWS International, said: "The first virtual run event "RUN FOR MILLIONS" – is organized for the first time by FOUR PAWS, allowing people to demonstrate their support for an end to the dog and cat meat trade. Most people don't want to see this brutal trade as part of Vietnam – and they'll be ready to prove it again. This is an opportunity for people to express their wishes to the Government about issuing a ban and increasing action, strengthening the law to end the dog and cat meat trade." "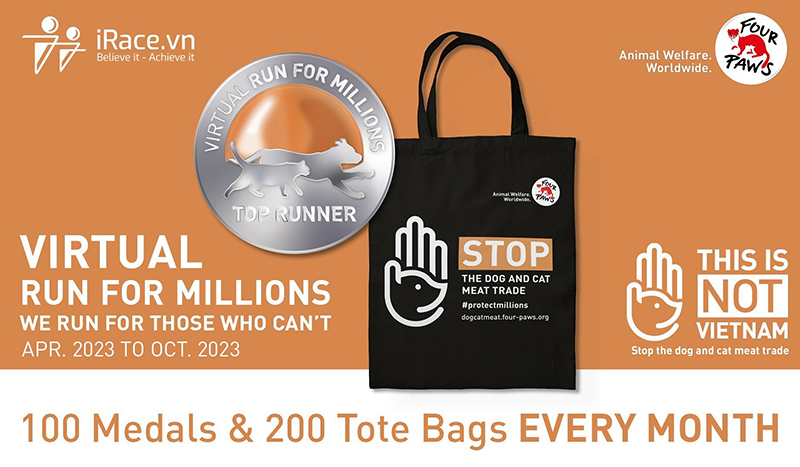 Ms. Phan Thanh Dung, Campaign Consultant in Southeast Asia of FOUR PAWS shared: "You will not want to miss this opportunity! The online event Run for Millions – Run for millions of cats and dogs is not only a call to end the dog and cat meat trade in Vietnam, but also spreads a positive sports spirit to everyone. Each step you take not only brings health benefits to yourself, but also represents a voice, a hope for a better future for millions of dogs and cats. FOUR PAWS is looking forward to your companionship and support. Together, we run for a Vietnam that says NO to the dog and cat meat trade!" To join the Run for Millions, please register here:
https://irace.vn/races/runformillions
---
[BBE1]https://dogcatmeat.four-paws.org.vn/help-us-report-a-case